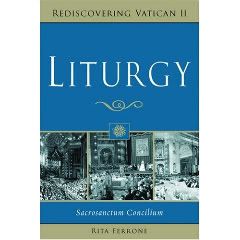 Team member Rita Ferrone recently won a 2008 Catholic Press Association Book Award for Liturgy: Sacrosanctum Concilium (Rediscovering Vatican II) (Paulist Press). The judges called the book:
An interesting and highly accessible guide to the central document in liturgical reform, the Constitution on the Sacred Liturgy. Liturgy explores the development, key principles and implementation of the CSL, and raises questions related to those principles needing further reflection in today's church. This book would be helpful for anyone interested in Catholic liturgy, and especially valuable for parish ministers.
To read my review of the book, click here.
Congratulations Rita!