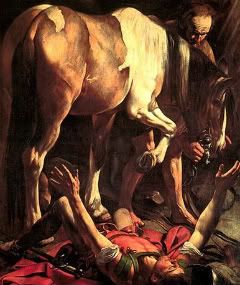 Apparently, Pope Benedict XVI was looking for ways to celebrate Saint Paul's 2,000th birthday. After the Vatican Fire Marshal nixed the idea of a giant cake with 2,000 candles (the pope may be infallible, but not inflammable), the pontiff decided to declare this "The Pauline Year." The festivities begin on June 29, 2008 and run through June 29, 2009. What festivities, you ask? Well, the Vatican is just a little tight-lipped about that. Never fear. TeamRCIA is stepping into the breach with nine ways to celebrate. (All of these suggestions have been safety-rated for catechumens.)
Focus on the Easter Vigil epistle for the year (Romans 6:3-11). Have the catechumens memorize it. Make it the reading for your lector training. Have the lectors memorize it too. Ask the school children and the kids in the catechetical program to write an essay or poem or song about it.
Preach on the second reading (when it is from Paul) more often this year. Focus the breaking open of the word sessions on the second reading more often. Write a weekly reflection question for the parish bulletin based on the second reading.
Sing the Pauline canticles more often. Ask choir members, cantors, and the worshiping assembly to memorize one or two of them.
Do you have stained glass windows in your parish? Or does a nearby parish? Is one of the images of Saint Paul? Take a field trip with the catechumens (and anyone else who wants to join in), and do a "breaking open of the glass" with them. (Don't forget "breaking" is a metaphor!)
Make pilgrimages to the parishes in your diocese named after Paul. You might want to call ahead. What's a pilgrimage without some coffee and cookies waiting for you?
Since the Feast of the Conversion of Paul is not only a Sunday this year but is also the event around which the Week of Prayer for Christian Unity is planned every year, make a greater effort at building ecumenical relationships this year.
Paul was all about conversion-his own and others'. Find a place on your parish Web site, Facebook group, or during coffee and doughnuts to share how you got knocked off your horse. (Which, as every good catechist knows, didn't actually happen to Saint Paul. But it is a good image of conversion.)
Throw a Paul party. Everybody named Paul, Pauline, or Pablo gets to be the guests of honor. However, they all have to tell the story of how they got their name.
Create a parish book where people can write out their favorite verse from one of Saint Paul's letters. In fact, let's do that here. Click on the comments link and tell us the line from Paul that inspires you. Or share your own ideas for celebrating The Pauline Year.