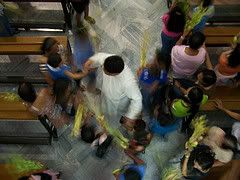 Kent Schaffer, on the Church Relevance blog, has posted the top 13 reasons seekers choose a church. The top three are:
preaching
teaching
hospitality
This would be a great discussion to have with your team. As you are making plans to start or improve your catechumenate process, how can you make the seekers' top three priorities your parish's top three priorities?
---
This is one of the best resources available for building a hospitable parish.

Dreams and Visions: Pastoral Planning for Lifelong Faith Formation
Bill Huebsch